Let's get moving for vital cancer treatment
Miles4Radiotherapy launches in 2023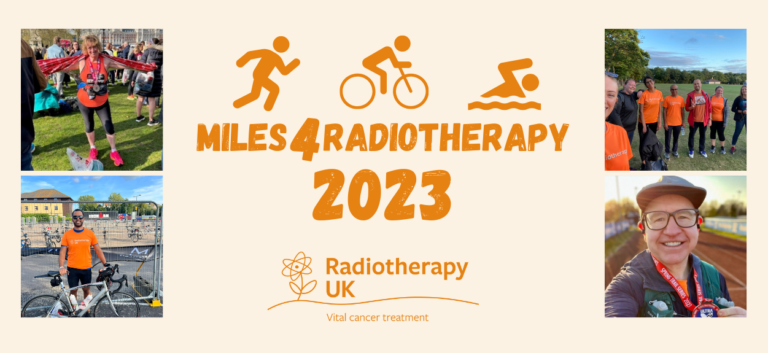 The summer challenge that welcomes everyone: July 1st to September 29th 
The #Miles4Radiotherapy summer challenge is a chance to have fun, reach your fitness goals and join our fight to bring the best cancer support and treatment to every patient in the UK.
1 in 4 of us will need radiotherapy at some point, and radiotherapy is needed in 40% of cancers which are cured. Yet radiotherapy treatment receives only 5% of the UK cancer budget.
Together we want to travel virtually around every radiotherapy treatment centre in the UK as many times as possible, to raise awareness about this life-saving treatment: and shout about our country's amazing workforce.
You choose how you move. Running, cycling, scooting, wheeling, biking, horse riding and walking are just some of the ways our supporters have joined in previously. Once you've registered, you can complete the challenge solo, or set up a team.
Entry is just £20, but we'd love to invite everyone to set up a fundraising page too. Money raised will support the work of Radiotherapy UK:
· Supporting and advocating for the radiotherapy workforce
· Helping patients understand their treatment and supporting them through it
· Campaigning for better, fairer cancer treatment in the UK
Thank you for joining us – Let's get moving for vital cancer treatment!
*Registration will remain open for the duration of the challenge so it's never too late to join in and get active.
Click here for your #Miles4Radiotherapy 2023 information pack.