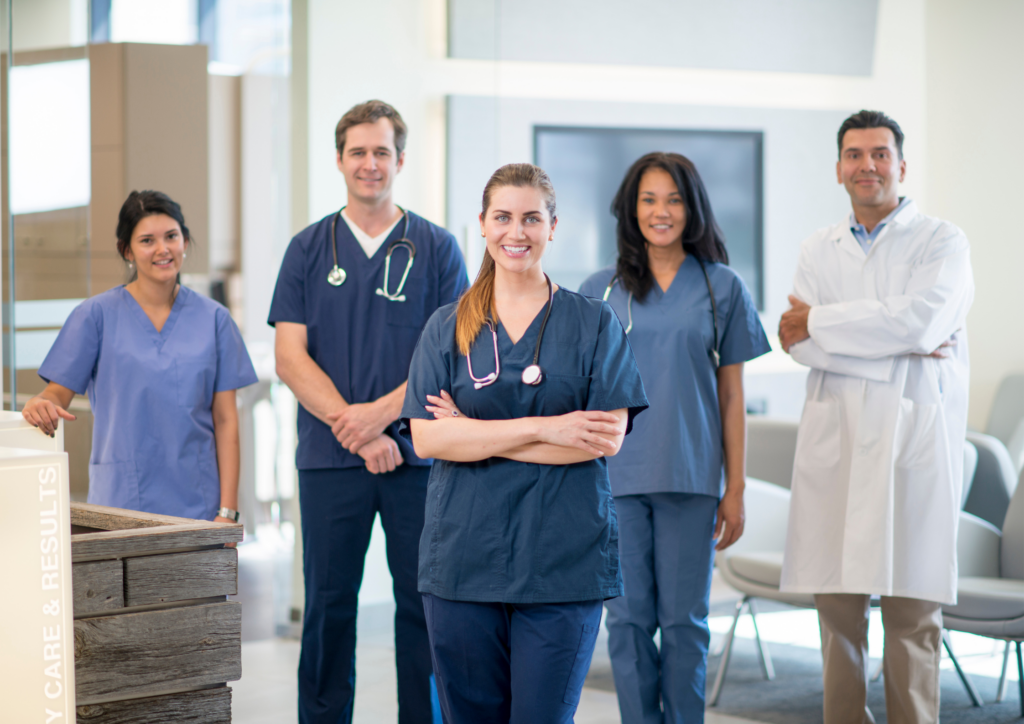 The radiotherapy team consists of clinical oncologists, therapeutic radiographers, medical physicists, dosimetrists, clinical engineers, technologists and radiotherapy nursing staff.
Everyone in the team is essential in order to assess, scan, plan and deliver radiotherapy treatment to patients and ensure they receive the support they need.
It is important here to also mention other allied health professionals –(AHP's) can also be an integral part of the care a patient receives. Others involved in caring for patients receiving radiotherapy treatment are psychologists, palliative care nurses and pain specialists.
Clinical Oncologists (COs)

These are specially trained doctors in cancer treatment who will help a patient decide what is the best treatment plan for their diagnosis. They will guide a patient through all the possible treatment options take into account a patient's medical history and talk through what is important to them.
A patient should then be able to make an informed decision on how they would like to proceed.
Once a treatment schedule has been decided, and where radiotherapy is indicated, the CO's will refer the patient to the radiotherapy department. This referral will begin the process of planning the radiotherapy part of a patients' treatment schedule.
CO's are then involved in deciding the exact treatment plan along with dosimetrists who design a patient specific map of the radiation according to what the CO's prescribe. This map is designed on a special computer using a patients planning scan, taking into account a patients medical background and where the cancer is and what sensitive structures are nearby.
Once this radiotherapy plan is finalised the CO's will sign it off. After multiple checking systems have been completed the plan will be ready to deliver the treatment to the patient.
CO's will regularly monitor a patient through their treatment and ensure they receive all the support they require during this time. This may mean referring patients to dieticians, psychologists, speech therapists, palliative care nurses and pain specialists where necessary.
After treatment, ongoing follow-ups by the CO's are often scheduled, this enables assessments of the patient's response to treatment to be carried out and to provide any ongoing management in the future care of the patient.
Therapeutic Radiographer – (TRs)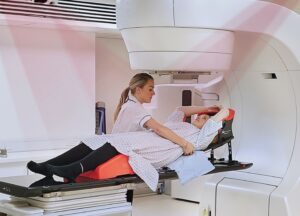 TR's are specifically trained to scan, plan and deliver radiotherapy treatments, whilst also providing supportive care. They have in depth knowledge of all areas related to the treatment and its effects on the body. They work closely with the CO's, dosimetrists and medical physics to calculate the radiation plan, they operate the advanced technology and imaging equipment used to assess and deliver the treatment accurately and safely. They carry out safety checks on all the equipment used to deliver the radiotherapy treatment each day prior to working clinically. They will also complete multiple checks and pre-testing on the treatment plans created prior to a patients first radiotherapy treatment delivery on the treatment machines.
TR's are the people who will see and assess a patient on a daily basis to ensure they are well enough to receive their treatment each day. Throughout treatment, patients become familiar with their team of TR's, often patients are treated by the same small team of TR's thorough the duration of their treatment. Therapeutic radiographers are often able to answer any questions or concerns that patients have about their cancer or treatment and can direct them to an appropriate health care professional if more support is required.
TR's in many radiotherapy departments also specialise in areas where they undertake further study. They can conduct on treatment review clinics, prescribe approved drugs, plan prescribe treatments becoming consultant radiographers in their area of speciality. You may even see therapeutic radiographers in primary care settings where they help patients will long term side effects as a result of cancer treatments.
Medical physicists – (MPs)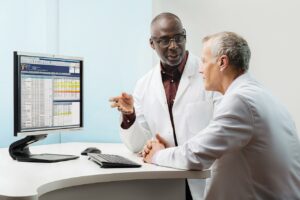 MP's provide the scientific support to the treatment of patients. MP's help plan complex treatments, ensure the machines deliver the right dose and advise on new equipment. They also take part in research to develop new techniques and treatments.
They have a wide range of roles. Some are known as Dosimetrists (these can be therapeutic radiographers or medical physicists) who will design and produce most radiotherapy treatment plans. Each patient has a tailor-made plan using a CT and\or MRI scans. The dosimetrists place fields and modify them to get the optimal treatment i.e., high dose to tumour, low dose to other sensitive organs. MP's also provide specialist advice to the CO's on complex and tricky cases.
Other MP's produce radiation shields or immobilisation for patients along with therapeutic radiographers. They prepare and apply brachytherapy (internal radiation) sources and calculate the treatment dose being delivered. They maintain all the radiotherapy equipment carrying out all the safety checks the equipment or manage IT help to specify, set up and maintain the specialised computing systems needed for radiotherapy. They may also write and maintain software. and quality assurance issues.
Radiation protection experts make sure that radiation safety measures are adequate and being followed and provide radiation safety advice for staff and the public. They also ensure that the department is working according to the regulations associated with radiation.
Physicists also commission new equipment ensuring it is safe and ready for clinical use and commission and test the development of new treatment techniques.
Radiotherapy nurses or clinical specialists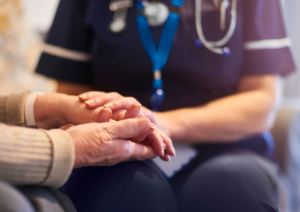 Any form of cancer treatment can have a physical and emotional toll on the patient. Radiotherapy nurses and clinical specialists are there to support a patient and their carers throughout treatment and beyond.
This might include assessing the person's overall health status, helping patients and family members navigate through complex medical systems, educating patients about their treatment, assisting with symptom management, and acting as a patient advocate.
Radiotherapy nurses have a good understanding of general health, cancer medicine and in-depth knowledge of radiotherapy side effects and management.
They will be able to answer many questions and provide physical and psychological support before, during and after the treatment process.